How to declare yourself bankrupt in USA
Thankfully, the legal way to write-off debts exists and it is called bankruptcy. But is it the real way out of debt hole if one have no means to redeem corporate or personal liabilities?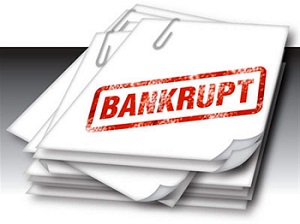 Keep in mind that if you took out a loan together with cosigners before becoming a declared bankrupt, the bank will still force them to redeem your borrowing.
After-Effects
The procedure is less terrible as it may seem, but still it makes sense first to search for other options to fight the downfall, because the details of your default will stay in the credit report for up to one decade. Needless to say that it may impact the price of the future borrowings and reduce the chances to get them.
The damage to your credit score is always proportional to the sum of liabilities involved. If your credit history is already poor, bankruptcy wont worsen it much. However, individuals who used to have pretty high credit score should prepare themselves for a dramatic reduction.
Although financial downfall procedure implies the sale of available assets in order to reduce the amount of debt, such assets as home, car and wedding rings are usually either fully protected by the law or protected up to certain sum. It will be useful to talk to people in your area: if the local regulations of your state have a loophole, you can negotiate other exceptions.
However, bankruptcy doesn't mean closed access to car and home loans and credit cards. Your credit score can be improved by meagninful money management and timely repayment. The law also requires obligators to take special debtor education classes, which would held raise financial awareness after declaring bankruptcy.
Conditions
If you consider sliding into bankruptcy, first verify whether it is legally possible to write off your type of liability. For instance, such liabilities as children support or costs occurred from drunk driving, as well as particular types of education, tax or fraud debts are not a subject of this procedure.
Process The country's Вankruptcy Code is split into chapters that classify several options in case of default. Individuals use chapters seven and thirteen.
Chapter seven is accessible when obligator's income fits into the minimum level set and adjusted by the government. It enables writing off debts in exchange for paying moneylenders cash raised from selling assets. Of course, it can become rather painful experience, which is why it is so important to treat your budget properly when the situation still reversible. The thirteenth chapter is a good choice for those who possess some stable source of income. It allows negotiating with debt holders a special mid-term (3-5 years) payoff strategy. ssentially, the same credit but with milder conditions. The amount of the new liability is calculated not based on your debt, but on the earnings that bankrupt individual generates after survival.
If you strive to reorganise a —Āompany, study chapter eleven, or chapter seven for business termination.
Documents
When the suitable bankruptcy product is found, its time to collect a heavy document package and complete forms, which can be found on the website of U.S. C–ĺurt. Keep in mind that all debts should be documented properly otherwise they won'Äôt be written off.
At the stage of initial application, the local legal entities would provide you with a court employee, also known as a trustee, who's job is to verify the papers, analyse real estate and further assets and arrange official hearings to decide on the debts' destiny.
Remember that it will be useful to hire a special agency to analyse your particular problem, manage debts and gather advice from persons know this bankruptcy process from inside.
As you can see it will be much wiser to be aware of your personal finances and avoid risks and spontaneous purchases. The ticket to debt zeroing may take away everything you had.
No comments, your will be the first.