Five credit scoring myths
While credit score calculation has long been automated, many conjectures and misconceptions emerged around this process. The risk of default is estimated by a list factors and is based on debt repayment performance of similar clients in the past.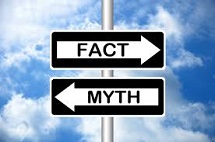 Credit bureaus donā€™t disclose the complete formula, but according to data analytics company FICO, it consists of history of payment for 35%, account balances for 30%, credit history for 15%, 10% accounts for the variety of credit accounts you have and 10% refers to the new loan applications. Actually, today high risk loan can be approved or rejected automatically without being reviewed by a credit committee.
Here are some popular myths appeared around credit scoring.
1. Salary, investments and alimony payments affect credit score.
The details of your individual and household income have nothing to do with your credit score. Credit bureaus also don't consider your savings, investment and checking accounts. You may possess lots of cash but it doesn't make you a reliable borrower in the eyes of a lender. On the other hand, timely payments on your debts are crucial, as well as other tangible proves of conscious management of personal finances.
2. Utilisation rate on credit cards doesn't matter
Even if you faultlessly repay credit card debts every month, your score is still under risk if you use more than 30% of your card limit. If your limit stands at $1,000 your balance should not exceed $300 during the entire month. Low utilisation rate demonstrates your ability to control spendings. If you need to boost expenses, raising credit card limit would be a good idea ā€" it would maintain utilisation rate low and credit score safe.
3. Loan overdue is forgiven as soon as paid off.
All your negative accounts are reflected in the personal credit report, which means that information on your overdue payments, collections and bankruptcy will remain and effect your score for 7-10 years.
4. Paid off and prepaid debts clean up your credit report
False! Not only closing your credit card or account donā€™t actually improve your credit history, it can also reduce the score, because the total amount of your available borrowed funds decrease.
5. Absence of debts and credit cards guarantees high credit score.
Actually, clear credit history is not considered as an advantage. Your credit score grows if you take out credits and pay them off properly and in time. For lenders clear credit history is considered as a risk because such clients can not yet prove their reliability. If you consider borrowing money with favourable interest rate in the future, it would be wise to have at least one credit card and treat it as a disciplined borrower.